I have begun asking clients for reviews and will post them as I receive them. Referrals to contractors we like to work with is below.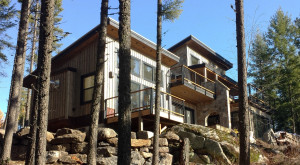 Jackie Taylor 2013
Pete Keller took my rough drawing of a house from a bar napkin, gave it life, purpose, and beauty.    He listened to my dreams, my vision, and created a home that surpassed them both.  I asked for what I thought was the impossible, a small "Frank Lloyd Wright" home in Sandpoint, Idaho.  He gave me that home; a home that nestles into the hills, the rocks, the trees, and becomes part of the environment, not a structure that stands outside of and in contradiction to its surroundings.
Pete is a poet, a dreamer, a visionary, a man of all seasons—if you wish to make your home come true, Pete is perfect for the job.
                                                                                                                                                Jackie Taylor
Aleto Residence
Pete has a keen eye for the contemporary house. His enthusiasm and dedication were above what I expected.
Tony Aleto
Talus Rock
Choosing an architect is a deeply personal and professional process that requires good chemistry, mutual respect, and shared values. Further, finding an architect to execute an out-of-the-box creative vision can be as difficult as finding Cinderella's shoe. Yet, we found this extremely rare blend in Pete Keller!
Pete Keller possesses an unmatched style that is the antithesis of a cookie-cutter layout. Taking into account our lifestyle desires while offering alternatives to match our budget, we found Pete to be responsive and adept at finding creative, flexible and appropriate solutions for specific building challenges.
In addition to his God-given creative talent, Pete possess dedication, expertise in sustainable architecture, passion, and perseverance which is why we ended up with an architectural gem that entirely suits our needs. Pete has grace, good humor and a clear understanding of our vision before proposing a plan, and is quick to refine and adjust for plan or on-the-spot changes. Coupled with his kind and approachable demeanor, he is an absolute joy to have on any jobsite.
We have used Pete on every project requiring a certain creative flare and unique problem solving aptitude, and he has yet to let us down!
Heather and Bruce Pedersen, Owners
Talus Rock Retreat
TripAdvisor: "Area's Best Lodging" 10+ years
USA Today:  "The place to stay!"
~Heather
Heather Mehra-Pedersen
Freeman Residence
We were very pleased with the work Pete Keller did in planning our new home. He brought in new ideas we hadn't thought of and made changes that suited our taste and life-style giving us a plan that was both beautiful and functional. We would recommend Pete Keller to Friends and Family.
Leigh and Mike Freeman
John and Louise Peyton 2012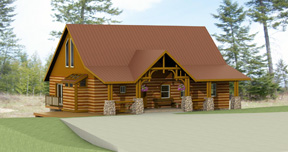 We asked Pete to complete a design for a remodel of a portion of out home.
We were interested in converting two small bedrooms with a bathroom in
between them to a master bedroom and a larger bedroom. Pete skillfully
completed a design which not only included a master bedroom and larger
bathroom but also a walk-in closet and a main floor restroom. His unique
design called for expanding an exterior wall for the larger bathroom .
This included cultured stone on the exterior which blended in perfectly
with the logs of the log home itself.
Additionally, Pete designed a gable and shed roof  for the front of
our log home. It extends across the front of the house with five pillars.
The pillars were to have cultured stone facades and flagstone
underneath the structure itself.  This project is now almost complete
and looks beautiful. We plan on inviting Pete over so that he can
see the fruits of his labor.
John Peyton
DSS Custom Homes
As a custom builder I am always pleased to work with Fitzpatrick Keller Architecture. Pete is a creative problem solver with a sharp eye for the art and logic of form, he is a skillful listener who can blend the client's ideas and goals into harmonious, functional structures — truly custom homes. Fitzpatrick Keller is always timely, competent, and cost-effective, a valuable team member for successful projects. Our clients greatly enjoy Pete's designs and we enjoy building them.
Stephen Smith
this is a list of contractors, builders, suppliers,  and professionals who we enjoy working with, whose work we've seen first-hand, and whose quality has impressed us and our clients.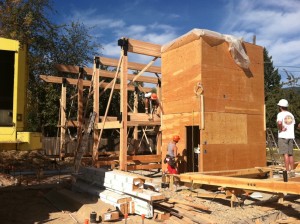 General Contractors:
DSS Custom Homes (contact Steve Smith at 208-946-4250)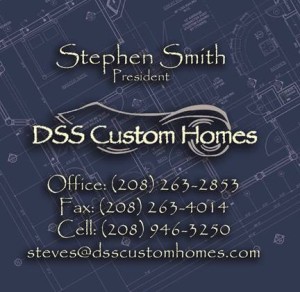 Winterhawk Construction (contact Jerry Cox at 208-290-7832)
Cabinets:
Cabinets Northwest
Drywall:
Unruh Drywall
Engineers:
Praxis Engineering
Excavation:
Colton Plue
Interior Design:
Dion Williams (dwdzine893@gmail.com)
Landscape design:
Site Specific Design — Mac MacDonald
Painting:
Ron Andersen 'Ron the Painter' — Andersen Fine Finishes 208-263-0762
Plumbing:
Allen Hermann
Realtors:
Hill Mannan at Mark Hall Realty

Fitzpatrick Keller Architecture -- Satisfied with the extraordinary